The study found that in the first six months of this year, millions of people were displaced by conflict, violence and natural disasters.
Between January and June, the Swiss-based Center for Internal Migration (IDMC) recorded about 15 million new internal migrations in more than 120 countries.
Among other natural disasters, including hurricanes, floods, bush and locust destruction – the majority or 9.8 million are feared to be homeless, according to a report published Wednesday.
IDMC found that conflicts and violence led to an additional 480,000 displacements, mainly in Syria, the Democratic Republic of Congo and Burkina Faso.
An estimated 50.8 million people will be living as IDPs by the end of 2019. In the coming months, millions of people fear being forced out of their homes by severe weather and ongoing violence.
"The astonishing figures recorded in the first six months of the year are evidence of steady fluctuations in displacement crises around the world," said Alexandra Bulk, director of IDMC.
"It is being touted as an epidemic of Covid 19, which has reduced access to health care and increased economic hardship and security risks for displaced communities."
The IDMC found that conflict and violence caused 4.8 million new internal displacements, mainly in Africa and the Middle East, one million more than in the first half of 2019.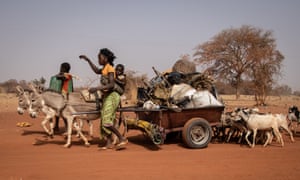 According to the report, with 1.5 million new displacements at the end of June, since the start of the war in 2011, new Syrian military activity in Idlib in the first three months of the year led to the most significant displacement in the country. ۔ Another 1.4 million were displaced in the DRC and another 459,000 in Burkina Faso, where fighting between criminal gangs, jihadists and local militias has plunged much of the nation into crisis.
IDMC found that in terms of numbers alone, Cyclone Amphitheater reported the largest single displacement in the first half of 2020, leading to 3.3 million premature evacuations in India and Bangladesh. Numerous East African countries have been hit by severe flooding and locust destruction, which has further destabilized regional food security, while devastating buffershires in Australia have displaced tens of thousands of people.
Despite this, many people living in disaster-stricken areas are reluctant to leave their homes for fear of contracting the Cove 19 in evacuation centers.
John Edgeland of the Norwegian Refugee Council has warned that millions of people could be displaced in the coming months as the weather system intensifies, and IDPs are likely to be displaced by the end of the year. There will be a significant increase in statistics.
"We expect even more people to be displaced in the second half of the year than before, as many weather-related hazards such as tropical storms and monsoon rains remain," he said.
"It is clear that many governments alone cannot bear the burden of such a large number of homeless people. Wealthy countries do not have the resources to provide these social security nets. That is why we are calling for action through the G20 to help the weakest people who are now spending trillions on their economies.
STAY TUNED WITH US FOR MORE INTERESTING CONTENT ONLY ON DESINEW.XYZ