Let's Start this Interesting Article Shared on DesiNew.xyz
New Delhi: A total of 832 flights carrying 58,318 passengers were resumed on May 25, the aviation minister said. Hardeep Singh Puri On Tuesday, revising his earlier figures.
On Monday evening, Puri said that a total of 532 flights carrying 39,231 passengers were operated during the day.
Puri said on Twitter on Tuesday afternoon, "The airport is unoccupied and passengers are back in the air. 58,318 passengers flew to their destination on the first day, May 25, by midnight on 832 flights."
On Monday evening, he said on Twitter, "No domestic passenger flights to 532 flights and 39,231 passengers have taken action on Indian skies till date."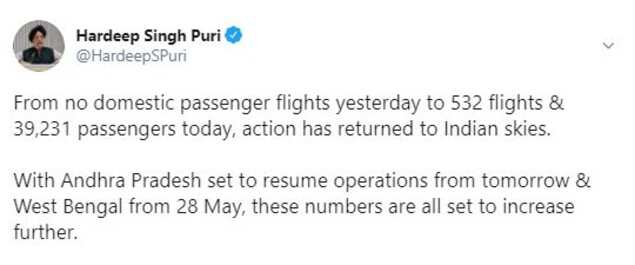 It is not clear whether the minister in his revised figure of 832 flights has included international repatriation flights operated under the Vande Bharat Mission.
STAY TUNED WITH US FOR MORE INTERESTING CONTENT ONLY ON DESINEW.XYZ